This condo resort is located in Princeville on 22 acres of beautiful, lush and winding grounds. It looks and feels very tropical. You can't drive to most rooms, but they will shuttle you around the grounds. The layout of the resort makes it feel quiet, even when they're nearly full. 
The main swimming pool has a small waterfall next to the spa and a swim-up bar. There is also a much smaller pool on property that tends to attract a more peaceful crowd. Some people get frustrated that they can't use the beach chairs at Pu'u Poa Beach in front of the Princeville Resort. (The chairs belong to that hotel.) Hanalei Bay Resort will rent you a chair ($6 per day, cheaper if you rent for 4 or more days) to take down to the beach and pick you up (there's a phone down there).
The lounge has always been a great place to have a drink, and they have food there. Parking was complimentary valet-only at press time from 3–9:30 p.m. for non-guests of the resort.
They've converted 77 rooms to timeshares. Another agent, Kauai Pacific Real Estate (below), handles many of the rental units. But there are many other agents renting rooms here as well. All rooms are not created equal. Only a few rooms have their own washer/dryer (the rest use coin-op). There are three main types: hotel-type rooms (rented through agent listed below), studios (the same but with a kitchenette and sofa bed—from agent listed below) and condo-type rooms (called suites). Of these, the suites are much better. In these, you get a living room area and larger rooms. Ocean views are fairly distant, but many are stunning, overlooking Hanalei Bay and Bali Hai (aka Mt. Makana).
We used to give them a gem rating. Though the grounds are still exotic, the lack of amenities for a resort of this size is noticeable. The rooms and lobby are updated, but the furnishings in the timeshare rooms were not remarkable. If you stay in Kauai Pacific Real Estate units, the quality feels much better than the timeshare rooms, maybe even a Real Gem.
Depending on the view, hotel rooms (around 550 sq. ft.) are $190–$210 (from agent below). Condo-type 1/1 suites (867 sq. ft.) are $309–$420. 2/2s (1,325 sq. ft.) are $338–$440. Larger units are available by combining lock-offs with 1/1s from agent below, who also has much cheaper prices across the board and also handles (1,705 sq. ft.) 3/3 units as well. Minimum stays range from 2 to 3 or more nights, depending on which agent you choose. You will need to pay the resort and parking fees no matter who you rent from.
To view more agents' units see:
Kauai Pacific Real Estate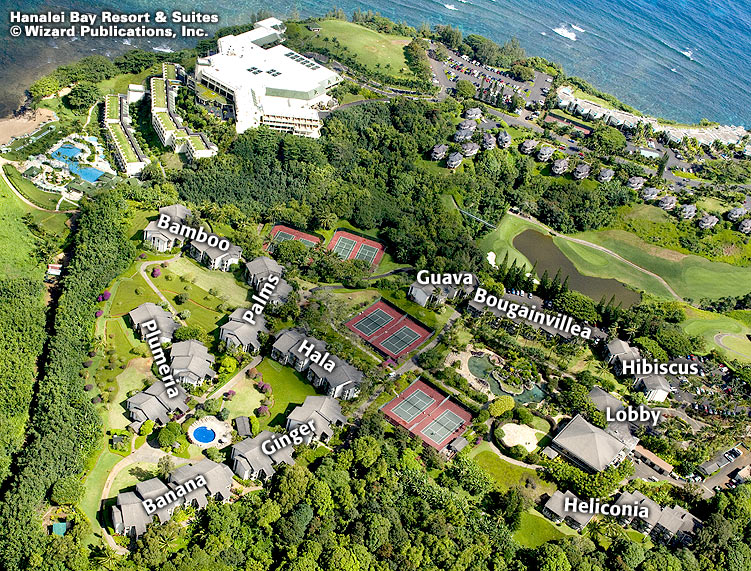 Address

(877) 344-0688 or (808) 826-6522


5380 Honoiki Rd, Princeville


Visit website
Our Location