The Hyatt's an easy Real Gem, and their awesome grounds put them in a class by themselves. It's hard for us to review this resort without sounding like drooling sycophants. But the reality of the Hyatt is that they did almost everything right. Put simply, it's our favorite big resort on the island.As you walk into the lobby and see the ocean framed by the entrance, you realize that here they really sweated the details. The grounds are as exotic as any you will find in all the islands, complete with parrots and other birds. Their pools are incredible. Gallon for gallon, they're more fun than any we've seen on the island. The upper swimming pool seems to meander forever. It even has a slight current and hides such goodies as caves tucked behind small waterfalls (they're easy to miss). Take your time exploring as it winds through lush vegetation. At the end of the upper pool, you can take the "elevator" (a free and respectably fast waterslide) to the bottom. There you will find what they call the action pool, complete with a volleyball net, waterfalls, spas and an area for children. An island there hides a hot tub. Above is the adult pool. Across from the lower pool are several acres of saltwater lagoon. If you want saltwater without the waves, here it is. The "sand" is actually more like gravel and is imported. (It's hard on tender tootsies but makes a good loofah.) Inside the lagoon are several landscaped islands.
The grounds are lush, very well maintained and feature a smashing water-fall below the Seaview Terrace Lounge. The resort is located on a so-so beach called Shipwreck Beach. They have covered casabella chairs (two chairs with retractable cover) on the beach for $150. They're coveted, and the Hyatt could use more. If you're lucky enough to be under one in the evening during a passing shower, it's something you will long remember. Cabanas by the beach are $300 and include water and some juice. Casabella chairs are $100 around the lagoon. Large hammocks and loveseat swings are scattered throughout the grounds. Their shops run the gamut from fine art to housewares. They have wedding coordinators on site, and guest services are good.
Rooms are pleasant and modern, but lack the personality the rest of the resort has in abundance, but you probably won't be spending much time in them. They did add 65-inch TVs which you can stream your shows to. Rooms with a king bed have a walk-in shower with a hand-held showerhead and bench. Rooms with two queen beds have a tub/shower combination.
If your intention is to come to Kaua'i and never leave the resort (which we hope you won't do), the Hyatt is the place to come. You'll never get bored here. There are activities almost all day long and many are included with your resort fee. This is a great place to bring the kids, but adults will enjoy it, too. Anara Spa is massive (45,000-sq.-ft. with beauty salon and a lap pool) and complete with couples' "treatment hales," lava rock showers, steam rooms and baths. They now allow non-guests to buy day passes (24-hours in advance) to use pool or spa facilities. The costs range from $100 per person up to $350 for a cabana by the pool for the day.
So what's the catch? Well, amenities like this don't come cheap. Rooms (500 sq. ft.) start at around $800. Suites are 1,055–2,463 sq. ft.) start around $1,500. Be aware they have an early departure fee if you opt to trim some days off your stay.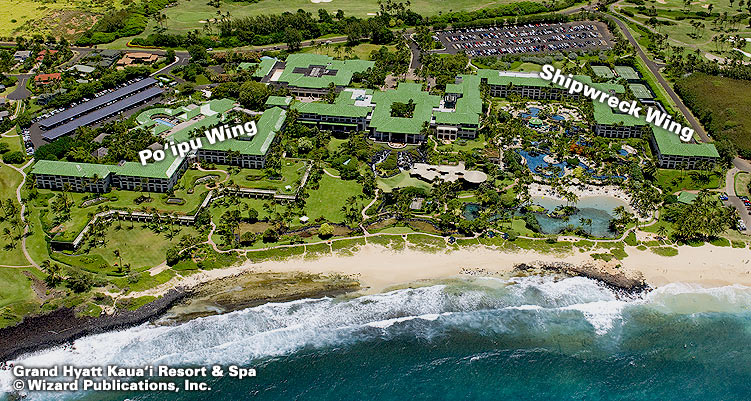 Address

(888) 591-1234 or (808) 742-1234


1571 Poipu Rd, Poipu


Visit website
Our Location