Wow! This resort dominates the landscape on this side of the island. We have to admit that we're not Disney groupies, so we had our own biases going into this review. And it took us longer to see this resort from top to bottom than any other resort in Hawai'i.
First things first. This resort sits on 21 acres fronting one of Ko Olina's coves. The resort consists of mostly Disney Vacation Club timeshare units with only 351 rooms devoted to the hotel, and those rooms all reside in the Wai'anae Tower. They also started renting rooms in the Ewa Tower (where the timeshares reside), which they call Villas. They consist of studios with kitchenettes or 1/1s up to 3/3s with full kitchens. All rooms are decorated in dark, old-world Hawaiian style with modern touches like hand-held shower heads in the baths (a must for your little ones) and, of course, hidden Mickeys. Their suites are amazing with fairytale beds, large steam showers and whirlpool tubs that the whole family can fit in. But let's face it, Disney is not about the rooms.
We've stayed at other Disney resorts, and the motto of this one is "big H, little d," meaning that Disney does not scream at you from every corner. This resort embraces the Hawaiian culture (in sort of a touristy way), and the paintings were all done by local artists, even the tapa patterns on the ceilings. If you are a "hidden Mickey" fan, you may have a hard time finding them (think square ears), and because it's Hawai'i, there are 300 hidden menehune scattered about the property. Each section of the resort tells a story. Their lounge, 'Olelo Room (meaning language), hires only fluent Hawaiian speakers, and everything in the room is labeled with Hawaiian words. There are over 2,000 "cast members" (employees) to serve you, and they all seem very happy.
The resort has three pools. One is a quiet, adults-only (18 years and older) pool. Another consists of an inner tube slide and a waterslide that begins at a large lava rock mountain and flows down to a 900-foot-long meandering river and large family pool. The third is a picturesque infinity-edge beachside pool that has sounds of whales and dolphins piped underwater. Keiki Cove and Menehune Bridge are fun water play areas where keiki can get wet but not swim. There are four whirlpool spas scattered about. Cabanas by the pool are a mouse-choking $325–$425! That's among the most expensive in Hawai'i. They include fruit platter, water, seating for six, fridge and TV. Casabellas (two chairs with awning) are $75 by the beach. There is a snorkel pool stocked with reef fish and a glass viewing area for those who don't snorkel. They call it their Rainbow Reef, and it comes with snorkel gear (life vest­ required) for $20/adults, $15/kids (9 and under) or cheaper if you buy it by the stay.
Their children's program facility (called Aunty's Beach House) for kids 5–12 is free, but you must reserve it in advance of your trip. It's also open late—until 9 p.m. Each room and backyard has a unique experience for the keiki. We actually didn't want to leave either. Lunch and dinner can be taken there for a fee, but snacks are provided every 2 hours for free. They also have a community room with activities for all, such as 'ukulele lessons, DVD rentals and board games you may take back to your room. There is a hospitality suite for late check-outs with computers, showers, TVs etc. Activities go on all day and night long, and Disney characters can be seen at special times for photo ops like at the popular breakfast buffet (see Restaurants).
Their Laniwai Spa is the adult spa with extensive services and an amazing 7,000-sq.-ft. hydrotherapy garden with plunge pools, whirlpools and showers. Teens (13 and up) won't be left out because they have their own spa called Painted Sky, with computers and yogurt bar where they can even mix their own spa products. Fathers can get away to the state-of-the-art fitness center (those were the only people we saw in there). And many fitness classes from yoga to tai chi are offered around the resort, some free, some for a fee.
We could go on and on. It's not the place to go and get away from kids, though, and it felt crowded and noisy to us. But if you're a Disney fan—or even if you're not—this place is a lot of fun and makes us smile. Rooms (387 sq. ft.) are $469–$909, suites (764–1,910 sq. ft.) are $1,132–$4,378. Villas (with full kitchens and washer/dryer in unit) are $469 for a 356-sq.-ft. studio up to $3,358 for a 2,175-sq.-ft. 3/3 unit.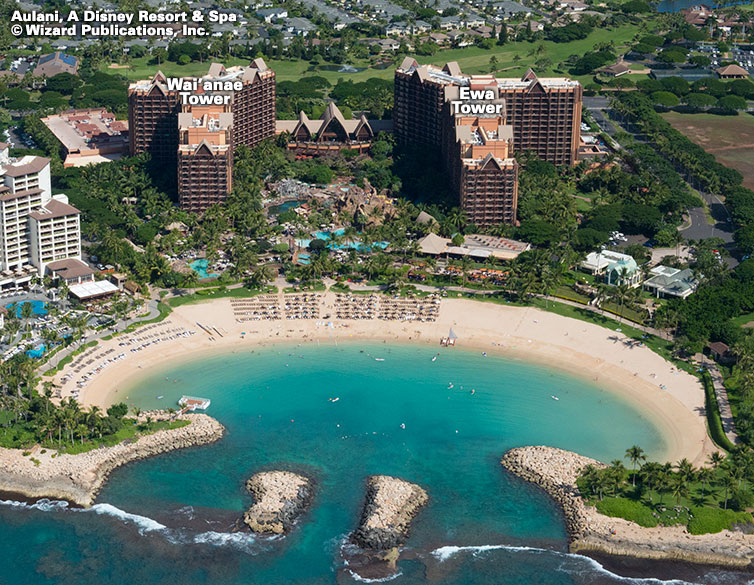 Address

(866) 443-4763 or (808) 674-6200


92-1185 Aliinui Dr, Ko Olina


Visit website
Our Location