This 27-acre resort 
on heavenly Ka'anapali Beach
currently consists of cottages and a tower called the Lahaina Kai. Of the two, you're best off at the Lahaina Kai Tower, with stunning rooms, including Egyptian cotton sheets and feather beds.
The cottages (available as hotel-type rooms or one- or two-bedroom suites) at press time were undergoing renovations consisting of new bathrooms, kitchens and furnishings. The results are clean, simple and very comfortable.
Of the oceanfront cottages, only Buildings E & F are worth the upgrade price; others have more blocked views. Cottage F (called the Royal Beach House) is a 1,600-sq.-ft., three-bedroom/two-bath unit that can be rented in combination with attached cottages to sleep up to 14 people. Royal Lahaina Resort has its own pool, spa, waterfall, lawn and beach access and feels very private. Most cottages are two-story walk-up buildings, though some are a single story. Upstairs units also have a lanai, though you'll almost certainly never sit there. For some bizarre reason, they face away from the ocean. The hotel's Jacuzzi is oddly located in the back of the property, far from the ocean by the tennis courts. Shuffleboard and bocce ball are available on site.
Royal Lahaina Resort does not have a mandatory resort fee, like most other resorts. However, parking is $15 per day, valet parking is $20, and local calls and 800 numbers are an extra buck. You can pay a $21 per day optional fee (Paradise Value Package) to absorb self-parking, local calls and two free mai tais per day, and if you add $5 more, you can get valet parking, too. There are two dining choices on the property, one of which is ice cream, sandwich and salad shop called The Royal Scoop (with reasonable prices). Breakfast buffets are at the Royal Ocean Terrace. There is nightly entertainment by the pool. The Beach Bar is by the cottage pool for drinks.
The rack rates are listed below and their prices have remained fairly stable, which makes Royal Lahaina Resort a better value when compared to other resorts in the area. Packages are available. Tower rooms (330 sq. ft.) are $235–$645, tower suites (790–1,120 sq. ft.) are $595–$1,650. Cottage rooms (350 sq. ft.) are $199–$635, cottage suites (1,135–1,600 sq. ft.) are $395–$4,000. Special pricing is available for Royal Lahaina Resort.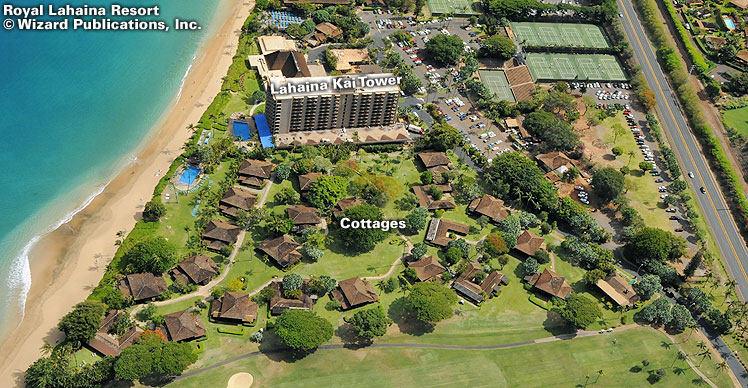 Address

(800) 222-5642 or (808) 661-3611


2780 Kekaa Dr, Kaanapali


Visit website
Our Location