Note: The Princeville Resort, after leaving its branding as a St. Regis, is planning to become part of 1 Hotels and to be renamed "1 Hotel Hanalei Bay". The hotel will be closed from May 1, 2020 until "further notice". We will have another look after the dust settles sometime in 2021. In the meantime, below is our last review of the resort before its closure.
Fabulous location and view, but now with a beating heart that is considerably less Hawaiian, a bit more generic upscale. It's been losing some of its polish as it waits to become part of the 1 Hotel brand. Arriving at the valet area, the hotel and Hanalei Bay remain hidden from view. A short walk down a wide hallway leads to large wooden pillars in the main lobby area, which continue to obscure the views from arriving guests. Where is check-in? Oh, there it is, around the corner (three desks with two chairs each). The Hawaiian artists' works featured throughout the hotel are much less visible than at other resorts on the island. It isn't until you walk deep into the lobby that Hanalei Bay, in all its glory, is revealed to you.
The hotel is designed in a series of tiers, stepping their way down a mountain. The payoff is great ocean views from most rooms. Rather than gaze upon ugly roofs below you, they've thoughtfully planted grass on them. At the bottom is the pool area. The swimming pool is near the beach and is an infinity edge pool with a separate, modest (no waterslide or spouting whales) keiki pool. Take a few steps across the grass to Pu'u Poa Beach, an easily accessible and relatively user-friendly beach. There are waiters to serve you around the pool and a restaurant and bar located there with a simple (but pricey) menu. Private four-course dinners by the beach are available for around $2,700 per couple, including tax and gratuity! The most expensive in all of Hawai'i, but very romantic. Cabanas will run you $250 per day by the pool or beach for two people (first come, first served for your choice of cabana location). Included are water and a fruit platter. Their 11,000-square-foot day spa features local Maile products, fitness room, wet and dry saunas and beauty salon. It's located right off the main lobby (could be mistaken for check-in) and doesn't make use of any of the views the rest of the resort enjoys. The rooms are furnished in a pale, neutral, earth tone palette with hints of orange and light blue on the ceiling. (Oddly, there's green marble in the bathrooms with deep soaking tubs.) They gave up the lanai on most rooms to leave you more wiggle room inside. They do have a comfy window seat, and you can slide the windows wide open to enjoy the view and fresh air. The bathrooms have a feature unique on Kaua'i: a liquid crystal windowpane. Flip a switch and you get instant opaqueness. In regular rooms, these windows overlook the main hotel room; in junior suites, they overlook the outside. The room décor will change as renovations were planned at press time. In comparing the Princeville Resort to the Hyatt in Po'ipu, the Hyatt has a more exotic, tropical feel, whereas the Princeville Resort has a more expensive feel (and a better beach). The Marriott in Lihu'e falls someplace between the two. The staff, though helpful, didn't seem as plentiful as other resorts of this caliber. Illy coffee makers with free pods daily are provided in your room. You may also request a microwave at no charge. Laundry is valet-only. Rack rates on rooms (540 sq. ft.) are $1,250–$1,550. Junior suites (820 sq. ft.) are $2,050–$2,350. Other suites (1,200–2,400 sq. ft.) range from $3,550 up to $7,600 for the Royal Suite. Those rack rates are the highest in all of Hawai'i for a basic room. So why the Real Gem rating? There is no denying that the location of this resort is one of the most breathtaking on Kaua'i, albeit breathtakingly overpriced. If the rack rates above don't scare you (our hands were shaking just typing them), then price obviously means nothing to you, and we wish you would adopt us.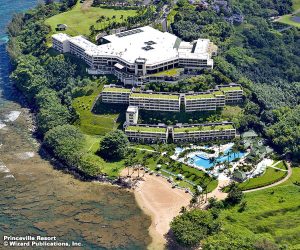 Address

(833) 623-2111 or (808) 826-9644


5520 Ka Haku Rd, Princeville


Visit website
Our Location