A small hotel (with a roof sun deck) that is in transition with newer management. In the past it's been in pretty poor shape, but this visit left us hopeful, though there's much more to be done here.
There are currently two types of remodeled rooms. One is a hotel-type room with queen bed and couch. The decor is best described as 1960s Bohemian, but with modern amenities and baths. We really liked it and hadn't seen anything similar in Waikiki. The other remodeled room is best described as an upscale hostel with four bunk beds built onto the wall. The whole room is almost set up like a dorm with four tall lockers, two separate desks and a couch. The four occupants each have their own cubby-style bunks with privacy curtains, USB hubs, reading lights and shelves. They share a nicely renovated bath and mini fridge. A microwave may or may not be included when it all shakes out.
In the un-renovated rooms, all non-moderate rooms have very old looking kitchenettes. Not all rooms have a lanai, and some rooms have standing-only lanais. The furnishings are OK, but not remarkable. Room size varies considerably. All rooms (except the hostel type) have a TV, DVD player and Playstation 3 game console with free rentals on site.
Rooms (200–260 sq. ft.) are $290, rooms with kitchenette (325–338 sq. ft.) are $300–$310, 1/1s (500 sq. ft.) are $340 and don't have a living room, just two separate bedrooms, 2/2s (700 sq. ft.) are $480. 3/3 penthouse (1,360 sq. ft.) is $730. That is way overpriced, but discounts are available.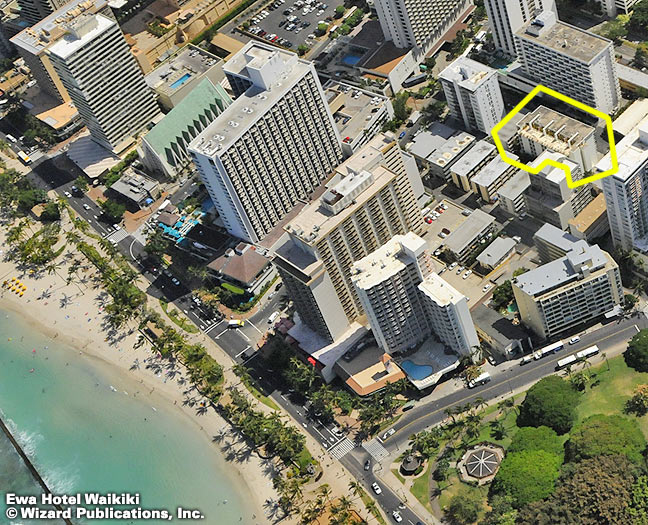 Address

(866) 940-2782 or (808) 922-1677


2555 Cartwright Rd, Waikiki


Visit website
Our Location